My farm kids are still on vacation so I was drawn to pictures of 3 years ago at this time.
Three girls in a tent under the clothes line 3 years ago - Mary would be 6, Rose is 1 and Bernadette is about 7 months. I am enjoying old pictures today.
How I love Saturdays devoted to The Blessed Mother Mary! So many beautiful reminders of how we can without worry look to her to assist us on our journey in this mixed up world. Of course, we have to face those that attack this beautiful devotion of ours. But I just say to those in my life that want to convince me that I am wrong to place Mary so highly..."There is no point in this discussion as I will not change you and you certainly are not going to change me!"
Bernadette by the grain bins with the cows in the pasture across the road.
The Gospel today is so wonderful! Jesus tells us that we need not worry about our lives, our paths, our needs, our anything! He is in control of our lives and will give us all we need including those pesky crosses he promises us! Mary certainly did this in the most complete and perfect way and she will assist us by taking that anxiety and fear and stress and angst and anger and disappointment and hurt and all that pulls us away from a life of faith in Jesus, and Mary will replace it with peace and trust! How does she do that for us? I just read some amazing words from St John Paul II, who loved the rosary and Our Lady reminding us of this most powerful beautiful prayer we can have with us throughout our days. Even only to say a "Hail Mary" when we face difficulties and challenges.
1 year old Rose down by the creek in the pasture - after an inch of rain last night I am sure it is equally full of flowing water today - 3 years later.
The words of Jesus to us are too good not to share today;
"Therefore I tell you, do not worry about your life,
what you will eat or drink,
or about your body, what you will wear.
Is not life more than food and the body more than clothing?
Look at the birds in the sky;
they do not sow or reap, they gather nothing into barns,
yet your heavenly Father feeds them.
Are not you more important than they?
Can any of you by worrying add a single moment to your life-span?
Why are you anxious about clothes?
Learn from the way the wild flowers grow.
They do not work or spin.
But I tell you that not even Solomon in all his splendor
was clothed like one of them.
If God so clothes the grass of the field,
which grows today and is thrown into the oven tomorrow,
will he not much more provide for you, O you of little faith?
So do not worry and say, 'What are we to eat?'
or 'What are we to drink?' or 'What are we to wear?'
All these things the pagans seek.
Your heavenly Father knows that you need them all.
But seek first the Kingdom of God and his righteousness,
and all these things will be given you besides.
Do not worry about tomorrow; tomorrow will take care of itself.
Sufficient for a day is its own evil." Matthew 6:24-34
So stunningly close to the cows and calves... I think they were a bit nervous, but grandma and moms were close by keeping an eye on things!
Mary is a prime example to us of how if we do not allow our worry to interfere with the work of The Holy Spirit in our lives that we can be instruments of bringing LIGHT/LIFE/LOVE/Christ and His Bride, The Church into the world! How can we do better? Being in control is so huge for us and for those around us... we have to start with us and give it up and TRUST! So very hard to do, but maybe if with those beads in our fingers or even just that prayer in our hearts, minds and souls Mary can help us let go and let God and we can be a even a small insignificant bringer of peace and LIGHT to our small worlds!
The LIGHT is so wonderful in these pictures, and it is so fun to use them again today.
The Blessed Virgin Mary is the pinnacle of God's creation. She is the most perfect, the greatest, the holiest human being ever to live. When we repeat her name, we greatly honor God her Creator. Mary never keeps any glory for herself. Her soul magnifies the Lord. (Luke 1:46)
Yet, if we truly look to her... her main message to us is HUMILITY! The words of The Magnificat ring in my heart and mind and soul and each night as we repeat them in Evening prayer it is a strong statement and reminder to us that we are not called to think anything of ourselves but give it all to Jesus!
Luke 1:46-55
A more complete version which really cracks down on the proud!
Stunning!
Jesus and Mary how I long to dwell with you and the Saints in heaven forever and always! I know that I am so unworthy, but with prayer and diving into the well of your Word each day I am helped to inch along the path carrying/dragging my most Cherished Cross! May we be assisted in laying our worries at your feet and trust in your care and plan for each of us. May we see You in all that we encounter this day and give without counting the cost. Jesus, we trust in you. Amen and Hallelujah.
Nancy's 2 has now become 4 in the last 3 years! I love this post she wrote about trusting in God to space your children! She has now had her first miscarriage just before she got pregnant with Josie!
I especially love when she shares her own growing up in our nest years and how that influenced her life now!
"I grew up with a sister 2 years older than me and another one 16 months younger…and a couple more siblings even younger. My sisters and I were close enough in age to all be on the swim team and marching band together. We showed cattle together, took trips together, drove to school together each and every day. We got on each other's nerves and fought like any sisters, but we really had each other, always.
And my kids have the same thing. If they wake up at 6am, there is someone there to play with. If we are on a trip or have the entire neighborhood pool to ourselves, their best friends are there too. They are really so lucky!
The best part–I get to sit and hold my baby while they play together. Mom is boring, and I'm totally cool with being left out of their games."
Bless-bless, Barbara Luke
Bernadette eating her mother's chin out of LOVE! I have seen icons of Jesus doing this to his amazing Mother, Mary the Mother of God! How I love to consider their love!
My watercolor, but just take note there are many famous icons of Jesus eating Mary's chin out of his love for his mother!
The wisdom of the Father clung around her neck and in her arms rested the Power that moves all things. The little Jesus stood on his Mother's lap and in her Virgin bosom rested the rest of holy souls. Sometimes tilting his head while she held him with right hand or left, he bent his head to gaze upon his Mother, he whom angels longed to look upon, and called her Mother with sweet murmur, he whom every spirit calls in time of need.
Filled with the Holy Spirit she clasped the sacred breast of her Son to her own breast and pressed his face to hers. Sometimes she kissed his hands and arms and trustingly, with a mother's privilege, took sweet kisses from his sacred mouth. She was not sated with beholding him nor satisfied with hearing him. Him many kings and prophets desired to see and saw not, and to hear and heard not.
She progressed further and further in love, and her spirit burning in her ever-wakeful soul was fixed upon his divine graces. For Love of her Son she feared neither toil nor grief nor dangers nor poverty nor want, neither terrors nor death nor the rage of the wicked king, the flight and return from Egypt. She was most pleasing in her activity, full of joy in what she did, prompt in obedience, devoted in her service, humble in her submission...
Bishop Amadeus of Lausanne (1159)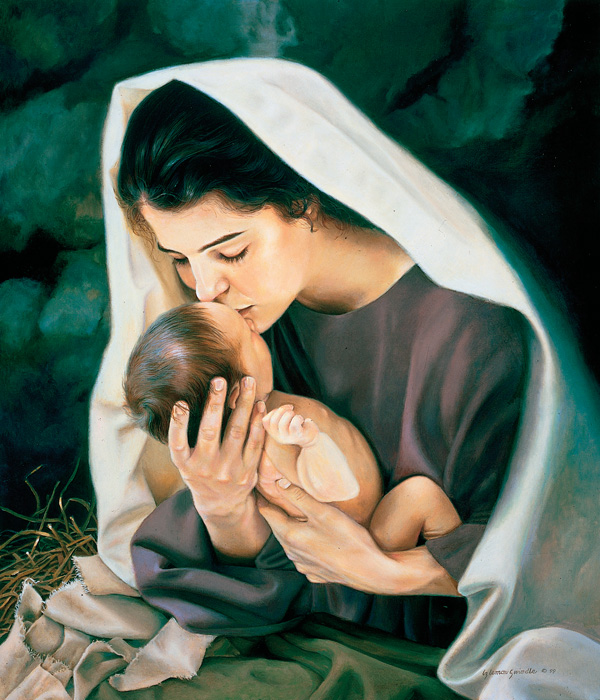 A strengthening prayer for Fathers to pray on this #FathersDay:
Heavenly Father, I thank you for the gift of my family, for whom I now pray and upon whom I now ask you to shower your blessings. With St. Joseph as my guide, may I always be ready to spend my life for them.
Bless my wife whom you have given to me as my spouse, sharing in your wondrous work of creation. May I see her as my equal an

...

d treat her with the love of Christ for his Church. May Mary be her guide and help her to find your peace and your grace.

Bless my children with your life and presence. May the example of your Son be the foundation upon which their lives are built, that the Gospel may always be their hope and support.

I ask you, Father, to protect and bless my family. Watch over it so that in the strength of your love its members may enjoy prosperity, possess the gift of your peace and, as the Church alive in this home, always bear witness to your glory in the world. Amen.
Words of wisdom from Josephine's patron saint!
Danielle Rose - Memorare
Casting Crowns - the well