The cup covering Hallel's face is reminding me that I am a little bit overboard with the pictures... right Susan/Hallel? Looking at the heartwarming sight of my 5 kids together - so miraculous and precious when it can only happen every 3-4 years!
Praying on the way back from KC... doing my Chaplet of Divine Mercy after the 10 decades of my rosary... possible to get it in on a 7 hour car ride in my chapel on wheels! I pray my chaplet for my dead and the 3rd decade is devoted to my sister Mary, who died of lymphoma when she was 28. It was 31 years ago on July 3rd! She was and is in heaven - a Godmother to both Nancy and Hallel, and feeling some twinges of sadness at the realization that we would not have Hallel in our day to day lives again for a very long time. Yet, what a blessing, I thought, what would I give to have my sister to come and visit me every 4 years for a week? We know of her prayers from heaven, and she has mine to aid her on her journey, as we know of Hallel's in her contemplative life of prayer throughout each day included with Mass and Adoration with her LOVE, Jesus Christ! We also are able to have her here in our home every 3-4 years, and that is pure amazing!
This is a good portrayal of our last week as all of us, minus only Captain Joseph, shared an amazing family/faith/farm time... helping and watching with interest while Pat loaded treated corn seed into the seed tender!
Talking to my mother on the phone this morning only made me realize how huge that week was, as it seems like a lifetime since I checked in with my mom still nursing her broken wrist. It seemed that our time was so precious that little else happened other than our meals and visiting and sharing family time. There were only a rare few that shared time with us other than a couple local aunts. Time was too precious and full of Hallel catching up and taking in our life and taking us deeper by sharing mass daily and prayers here and there. Mostly by her witness of modesty and humility and LOVE for her spouse in all that she does and is!
Hallel has always had a great love for her farm upbringing... she even put a cow border in her bedroom when we painted it when she was 14. She seemed to make it a point to go along with her dad whenever she could for parts on the first day here and for seed in a town an hour away on one of her last days here. She rode in the seat next to her dad where the grandkids ride now out to the back pasture with a bale on the spear, too. We spent lots of our meals out in her dad's new shop and watched with interest all that happens in the spring.
Family meal time out in the shop... the kids can play and the mess is out of the house as we fed 24 meal after meal.
The tears come easily when I am sharing or pondering the week we just were gifted with! Last night I found myself praying mightily for my two youngest... so often they are together in my heart, mind and soul! This was so true during John's year of battle over brain cancer 8 years ago, and Hallel's taking her habit and changing her name in France at the same time!
http://familysoulstory.blogspot.com/p/johns-cancer-stories.html
Two of the aunts stop in for the night of our Mexican Fiesta/Cinco De Mayo.
John burns to share his finding Faith through brain cancer, and was away sharing his story and ministry in a town about 2 hours away last night. We prayed with Lourdes water before he left and I prayed his decade of the rosary - 5th glorious last night - the Crowning of Mary Queen of heaven and earth as he began to speak. We shared the Saint for yesterday - St Damien and how he prayed about the lepers he worked with...
If I can't cure them as Jesus did, at least I can comfort them... I hope that many of them will be cured of the leprosy of their souls....
This uncleanness of the soul really spoke to us as what was healed first and foremost in John as he found his faith after a half-hearted asking to believe. At the same time I had the honor to be invoking the Holy Spirit to use John, I was also praying for Hallel as she was on a plane flying across the ocean to return to Rome. How powerful is it to continue to pray in the Spirit all these years later... probably 50 since my Charismatic parents prayed over me to receive The Holy Spirit, and it will be 45 years since we came into The Church and each day has been a gift!
http://familysoulstory.blogspot.com/p/the-amazing-story-of-13-becoming.html
Time together is a gift!
Seeing John's passion and need to share above all else... truly as St Paul in Acts these days...sent by Jesus/I AM! We all are called upon to lift him up in prayer each day... "show John your path laid out for him." How I pray that for our grandkids also, and know that having Hallel's saying "yes" to her call to give her all to Jesus will show them that this is to be considered as the possible way Christ might be calling them to, and what a wonderful option it is! Once you have been sent by Jesus there is no turning back, and he washes our feet showing us that we must die to self and serve without counting the cost!
http://familysoulstory.blogspot.com/p/susan-angela-agneslittle-sister-hallel.html
Hallel so enjoyed the little ones and they her! These two became fast friends and sought out Little Sister to play with! Romeo and Dominic are just 3 months apart and spent a lot of time in the sand box with tractors or trucks or marching around with swords. The kids had a marvelous week together!
Lots of frogs at Camden and cousin time...
Sunset campfire at sunset in the grove where she played and grew up having fires and making Smores in this same fire pit. The apple blossoms were blooming as were the lilacs!
Jesus, may I truly allow you to shine through in my life and use me to share The Truth with all that I encounter, most especially with those in my domestic Church/family. Come Holy Spirit! How I long to pray long and hard and without ceasing each day, and take the Mercy and LOVE I have been shown and return it to those in my life. Jesus, we trust in you. Amen and Hallelujah
I am getting excited and marvel that we will be blessed with our second David having his first Communion here in a few days! Such a special blessing to share this huge moment in his life, which will give him food for the journey of Faith and Family he has ahead of him as he carries/drags his Most Cherished Cross and follows his Jesus down the narrow path to heaven forever with Jesus, Mary and the Saints! What JOY to know that Venerable Solanus Casey will come closer to Sainthood
http://www.themichigancatholic.org/2017/05/pope-francis-announces-fr-solanus-to-be-declared-blessed/
He will become Blessed Solanus Casey in Detroit later this year! John shared that he shared a lot about how important he was to John on his path to healing, and continues to walk with us! Bless-bless, Barbara Luke
Thinking about Simon a lot this week as he is at Camp Foley with his class.
Jesus, we trust in you.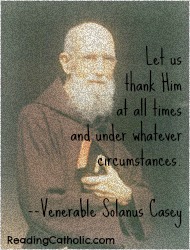 Hills and Valleys again... so good!
Danielle Rose - Pursue me