Breakfast in the bright sun on this cool morning on the farm after sharing 8a mass as a family on this 12th Sunday of Ordinary Time! Spread the Good News - Jesus is alive and well in us thanks to His Word and Sacraments!
Just received the amazing news of the date for the Beatification of our dear Venerable/Soon to be Blessed Solanus Casey! It will be November 18th in Downtown Detroit! I have a feeling that John and I will be looking seriously at a road trip or flight to be there for that occasion. Solanus became very close to us on our journey 8 years ago... just about that time of year when my parents brought a relic to pray over John with during the morning mass
Our 2 mother's looking at the relic of Venerable Solanus 8 years ago... It was in November of 2009, and I am overjoyed that almost 8 years later he will become Blessed! The 8a mass was filled that day with many praying for John as he was brought out into the center aisle to be anointed and prayed over with the relic!
http://familysoulstory.blogspot.com/p/johns-cancer-stories.html
No John did not have a miraculous healing that day, but Blessed Solanus is hugely a part of the healing of John as he found Faith through brain cancer.
A very special shrine to our man at St Michael's in Stillwater as he lived his life in Wisconsin and other places locally. There with my parents on Father's Day last weekend was pretty powerful as that we the day 8 years ago that we first realized that John had brain cancer! He was such a humble man, who touched many with his listening ear as they would come to the door of the monastery.
Yes, his designs are mysterious and hard to understand, but he reminds us in the Gospel today... that we do not need to be afraid... no matter what we face!
My new motto in my journey, because it is a struggle a lot of the time!
Yes!!! Life would be a lot more pleasant this way!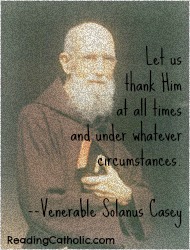 A whole lot of appreciation for what He is doing in our lives to help us get to heaven forever!
"Even all the hairs of your head are counted.
So do not be afraid; you are worth more than many sparrows.
Everyone who acknowledges me before others
I will acknowledge before my heavenly Father." Matthew 10... the Gospel today!
so beautiful and how I would love to be that humble and patient! Blessed Solanus intercede for me and teach me!
I am really enjoying sitting at the feet of Solanus Casey and allowing him to share these pearls today.
Lord, how I love you and thank you ahead of time for all that is ahead as I carry/drag my Most Cherished Cross down the narrow path to reach heaven forever with you, Mary and all the Saints along with our dear humble patient Solanus Casey. May this Ordinary time be filled with your plan for our lives as we go forth to share all that you have done in our lives! Most especially with those in our domestic Church/family. Jesus, we trust in you. Bless- Bless, Barb
Inside the remodeled farm house after breakfast - admiring the huge windows and the glorious sky filled with white puffy clouds on this clear cool day!
Luke and Rose sharing a secret while they play in the living room with the huge picture window as a backdrop!
An amazing picture of a crucifix in a field not far from our house! Such a symbol of His LOVE!